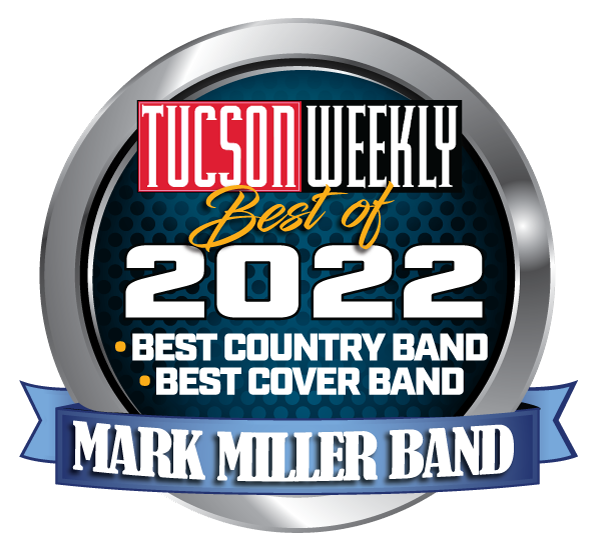 We at Whiskey Roads have been blessed to be working with The Mark Miller Band for almost 4 years. They are the only band we offer the full-time residency at Arizona's largest honky-tonk.
"Mark Miller may seem like an overnight success, but talent does that. His country baritone voice is magic, with the kind of effortless phrasing that producers earn big money for in Nashville."
"Mark Edward Miller

is the real deal. Not a diss on any of our bands that have played here by any means but this kid is special. Can't wait to have him back!"
"Best band in Tucson- no disappointment!"
"Last week glow party at @cblivephx with @markmillercountry was unforgettable! He has incredible vocals and is an excellent performer."
"You won't find a better band in Tucson! Great energy, talent and ALWAYS a great time!"
"If you're looking to leave your hat on, and your road leads northwest of town, you'll be tempted by two of Tucson-area country music lovers' most popular watering holes, The Station and Whiskey Roads. Often, the Mark Miller Band is there playing country favorites from the '90s. Go ahead and Dance the Night Away like the Mavericks."
WHO IS THE
MARK MILLER BAND?
The Mark Miller Band was founded in 2018. Mark Miller was performing solo shows when he approached guitarist Dan Hawk and Seth Buell about getting a band together. The goal was to cover the best music from the 90's to today. After playing at venues around Southwest Arizona, the band was offered a permanent position with Tucson's largest country venue- Whiskey Roads in 2021. You can find the band there every Friday night laying down the country music that people love and has brought the band notoriety throughout the state and beyond. The MMB has also shared the stage with national touring acts like David Nail, Jon Wolfe, David Alan Byrne and Love & Theft.
The band consists of: (L-R)
• Steve Fosdick- Drums & Vocals
• Branden Sanchez- Bass & Vocals
• Dan Hawk- Lead Guitar
• Mark Miller- Guitar & Lead Vocals